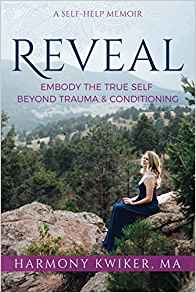 Craving deeper connection in healthy relationships? Join author and psychotherapist Harmony kwiker, MA, as she reads from her vulnerable self-help memoir unique relational meditation. In this unique celebration of her first book, Reveal: Embody the True Self Beyond Trauma and Conditioning, Harmony will guide an alignment meditation then facilitate exercises designed to help you find your authentic voice.

"Harmony Kwiker's story is a modern day he-she-roe's journey, the journey of how she learned to give voice to her deepest truth and reclaim her essential self. I love how nothing is taboo in this magnificent work. I urge you to get this book and read it all the way through as an act of self-care. I believe you'll be much wiser for taking this journey with this gifted author."~Susan Campbell, Ph.D., author of Getting Real, Truth in Dating, and Five-Minute Relationship RepairAs a psychotherapist and teacher, author Harmony Kwiker knew her story of trauma and conditioning very well. However, she couldn't quite see the way these past experiences were influencing her habitual behavior in relationships to others and to herself. In this compelling memoir, journey along with Harmony as she strips away layers of her conditioned self and reveals the essence of who she really is. This powerful book masterfully weaves Harmony's story with the concepts of spiritual psychology that she teaches at her workshops. Be fully engaged in this talented author's story while learning right along with her. From the Cover:"I was hooked from the first paragraph. Harmony's courageous sharing of her vulnerabilities and triumphs on the journey toward authenticity, wisdom, and happiness will inspire readers to live in alignment with their true natures."~Sue Patton Thoele, author of The Courage to Be Yourself, The Mindful Woman, and several others"All of this pain has a purpose," 6-year-old Harmony heard from deep within as she practiced transcendental meditation for the first time. Feeling relieved by these words of hope, she knew instantly that she wanted to learn how to bring this message to life. With progressive healers as parents, Harmony was nurtured to be a healer herself. However, the painful secrets hidden beneath the façade of having well-loved healers as parents kept Harmony locked in a pattern of wounding and suffering. Conditioned to be accommodating and agreeable, Harmony thought that being nice would earn her love and approval, but instead she felt broken and lonely. With low self-esteem and unhealed trauma, she allowed herself to be victimized by men repeatedly - keeping her pain hidden away and never speaking her truth. As she set out on a long healing journey, she learned how to take her power back from her trauma and conditioning so that she could claim her healthy feminine expression - tender, powerful, and sovereign. Now a successful healer who empowers others to live in alignment with their True Self, Harmony has learned from her long journey as a wounded healer how to embody the wholeness that is her birthright and to live from this deeper place. In this vulnerable self-help memoir, she shares with you her powerful story of healing and awakening.
ABOUT THE AUTHOR

Harmony Kwiker, MA, has been empowering her clients to step into their expansive True Self for over 20 years. As a Psychotherapist and Relationship Coach based in Boulder, CO, she is committed to embodying the message that she teaches. As a mother, partner, healer, and friend, she practices going deeper into her awakening in all areas of her life. She recently published her self-help memoir, Reveal: Embody the True Self Beyond Trauma and Conditioning, where she vulnerably shares her story of trauma, conditioning, and transformation. She travels the world leading workshops, speaking about transformation, and teaching people how to find their essential voice.