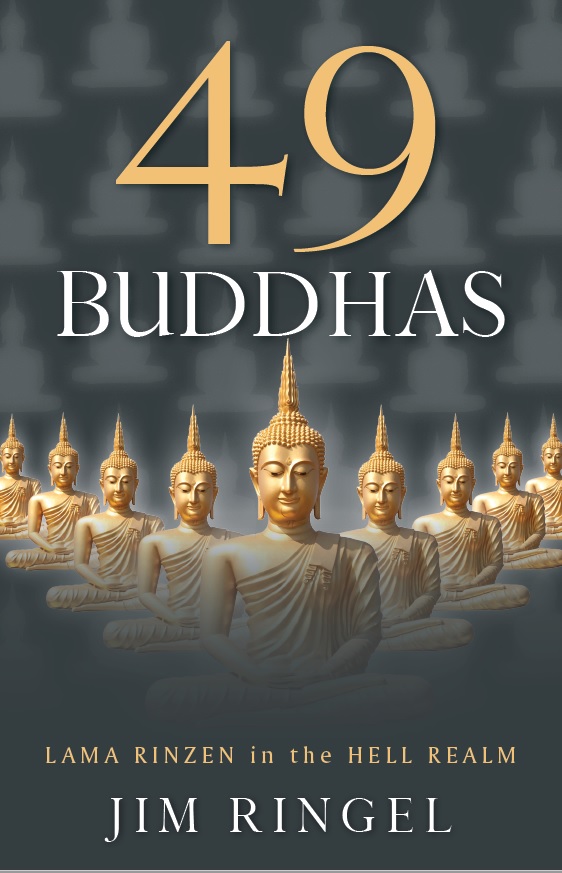 On a cold December day, Lama Rinzen is reborn as a detective on Denver's Colfax Avenue, where he must find insurance man Sonny Heller's killer. Sonny's death is no simple stabbing. The man's skin and limbs are extracted in a way that Rinzen recognizes as lingchi, a ritualistic slaying practiced in his past lifetimes in Hell.

Rinzen believes finding Heller's killer will lead him to the Sacred Dorje. Once he finds the Dorje, once he holds its magnificence, he and all sentient beings will achieve enlightenment and escape this Hell Realm forever.

Each of the Lama Rinzen Mysteries takes place in one of the Six Buddhist Realms, where Rinzen must learn the realm's lesson and solve a murder. In the process, Lama Rinzen himself is killed, allowing him to be reborn into the next book in the series, and into the next realm.
Advance Praise for 49 Buddhas

"...an entertaining, head-spinning murder mystery that combines Buddhist insights with noir tropes on the mean streets of Denver." —BlueInk Review

"Blending elements of philosophy, religion, and the mystery genre, 49 Buddhas is the start of a series to watch." —Foreword Clarion Reviews

"With enriching and thought-provoking lessons and deeply reflective prose, Ringel keeps readers' fingers on Lama Rinzen's pulse at every twist as he races to recover the lost dorje—in a hell in which he himself is lost." —US Review of Books

"A reincarnated soul trying to find Nirvana is a whole new way to present a murder mystery. The stakes have never been higher than in this well crafted novel." The BookLife Prize in Fiction "Jim Ringel's sharp, witty 49 Buddhas illuminates the mysteries of both Buddhism and murder." —William Haywood Henderson, author of Augusta Locke