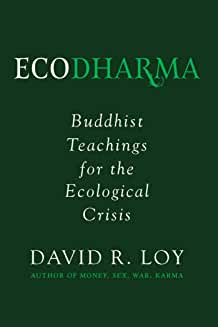 How can we respond urgently and effectively to the ecological crisis?and stay sane doing it?

This landmark work is simultaneously a manifesto, a blueprint, a call to action, and a deep comfort for troubling times. David R. Loy masterfully lays out the principles and perspectives of Ecodharma?a Buddhist response to our ecological predicament, introducing a new term for a new development of the Buddhist tradition.
ABOUT THE AUTHOR

David R. Loy's books include the acclaimed Money, Sex, War, Karma: Notes for a Buddhist Revolution; The Great Awakening: A Buddhist Social Theory; The World Is Made of Stories; A Buddhist Response to the Climate Emergency; and The Dharma of Dragons and Daemons, a finalist for the 2006 Mythopoeic Scholarship Award. He was the Besl Professor of Ethics/Religion and Society at Cincinnati's Xavier University and is qualified as a teacher in the Sanbo Kyodan tradition of Zen Buddhism.

His articles appear regularly in the pages of major journals such as Tikkun and Buddhist magazines including Tricycle, Turning Wheel, Shambhala Sun and Buddhadharma, as well as in a variety of scholarly journals. He is on the editorial or advisory boards of the journals Cultural Dynamics, Worldviews, Contemporary Buddhism, Journal of Transpersonal Psychology, and World Fellowship of Buddhists Review. He is also on the advisory boards of Buddhist Global Relief, the Clear View Project, Zen Peacemakers, and the Ernest Becker Foundation. He lives in Boulder, Colorado.