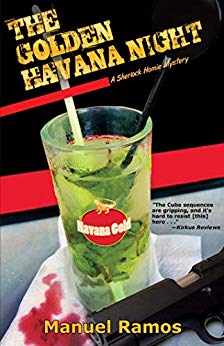 Praise for The Golden Havana Night

The latest Gus Corral adventure takes the Northside homeboy to Cuba and back to Denver in a story that Kirkus Reviews called "gripping" with a hero who is "hard to resist."

"You can't help but love a book that's subtitled A Sherlock Homie Mystery, which suggests another Gus Corral book may be in the works. That's good news, because The Golden Havana Night cries out for a sequel."
The Denver Post

"Ramos' metaphoric reflections on who and how we see one another, through language, through health communication, through aging, make interesting divagations from the crime and travel literature mission of the novel, but add immeasurably to the storytelling essential of the detective novel. The Golden Havana Night has everything a reader looks for. Except an ending. And that's what, when all gets said and the last page done, makes this Sherlock Homie novel a real kick in the head."
La Bloga


ABOUT THE AUTHOR

Manuel Ramos is a retired lawyer and the author of nine published novels and one short story collection. For his professional and community service he has received the Colorado Bar Association's Jacob V. Schaetzel Award, the Colorado Hispanic Bar Association's Chris Miranda Award, the Spirit of Tlatelolco Award, and others. His fiction has garnered the Colorado Book Award, the Chicano/Latino Literary Award, the Top Hand Award from the Colorado Authors League, and three Honorable Mentions from the Latino International Book Awards. His first novel, The Ballad of Rocky Ruiz, was a finalist for the Edgar® award from the Mystery Writers of America and won the Colorado Book Award in the Fiction category. His published works include Desperado: A Mile High Noir, winner of the 2014 Colorado Book Award in the Mystery category, several short stories, poems, non-fiction articles and a handbook on Colorado landlord-tenant law, now in a seventh edition. He is a co-founder of and regular contributor to La Bloga (www.labloga.blogspot.com), an award-winning Internet magazine devoted to Latino literature, culture, news, and opinion. The Skull of Pancho Villa and Other Stories was published in 2015. My Bad: A Mile High Noir was published in September, 2016.