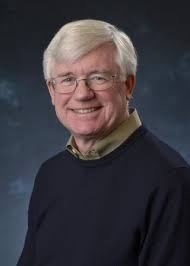 Thomas L. Riis received a B.A. from Oberlin College and an M.A. and Ph.D. from the University of Michigan. Dr. Riis is a specialist in Musical Theatre and writes and lectures frequently on many topics in nineteenth- and twentieth-century American music. His book Just Before Jazz, devoted to African-American Broadway shows, received an ASCAP-Deems Taylor Award in 1995. As a Fulbright Senior Scholar, he taught in Lueneburg, Germany, 2005-2006. His other interests include medieval song, historical performance practice, and the music of Frank Loesser. Dr. Riis remains active as a conductor, choral singer, and cellist.


Keith Waters is Professor of Music Theory. His book, The Studio Recordings of the Miles Davis Quintet 1965-68, was published by Oxford University Press in 2011. That book has won a Research in Recorded Jazz Music Award from the Association for Recorded Sound Collections (ARSC 2012), a New York City Jazz Record "Best of 2011" Award, the Jazz Journalist Association's "Best of 2011" Award, the 2011 Steve Larson Award for Jazz Scholarship (Jazz Interest Group of the Society for Music Theory), a Kayden Honorable Mention Award (University of Colorado 2012), and was chosen by Down Beat as one of its Editor's Picks.

He received a PhD in Music Theory from the Eastman School of Music, and a Masters degree in jazz piano from the New England Conservatory of Music. As a jazz pianist, he has performed with James Moody, Eddie Harris, Bobby Hutcherson, Sheila Jordan, and Chris Connor, and has recorded and performed throughout the United States, Europe, and Russia. His most recent recording, Carolina Tracks (2012), assembles North Carolina's top jazz musicians; its proceeds are in support of the North Carolina Jazz Scholarship.